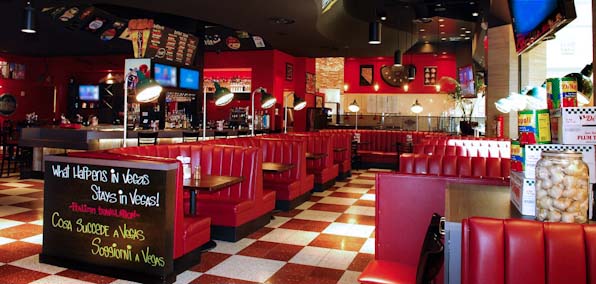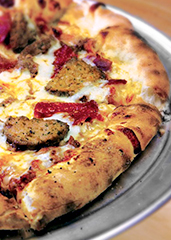 Last night is suddenly coming back into focus.
Or at least the part where you made plans to meet someone this weekend, in Las Vegas, at a place not yet determined.
Good start.
Now, let your friendly neighborhood casino pizzeria take it from here.
Introducing
Slice of Vegas Pizza
, a new Italian venture that delivers an authentic Vegas rendering of a classic New York pizzeria, opening Friday in Mandalay Bay.
This place doesn't purport to be anything but a no-frills, 11,000-square-foot pizza joint. You know, the usual. So simply follow the scent of sausage pie and calzone dough past a baccarat room, into Mandalay Place, until you hit an exposed brick wall covered by manholes imported from the New York-New York hotel (for extra authenticity).
As for the pre-date setup: tell her to secure a circular, red-leather booth for 8pm sharp. (Arrive at 8:15, citing Concorde trouble.) On your way in, cue up that mix you were saving for your pro wrestling debut—your iPod will be synced to the vintage jukebox playing the whole room, so remember to remove any Lauper beforehand.
Next, grab a couple slices and cans of beer at the bar and be on your way. Or take it slow and do things the right way—by ordering a
Mushroom Ragu Pie
and a pair of
Hey Sugar Lips
served in sugar-rimmed martini glasses.
The right way is pretty subjective.