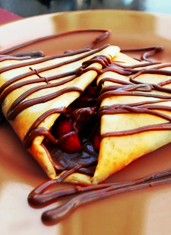 City Hall Plaza.
It could use a little something to offset all the poured concrete and civic-ness.
Something to enrich the air with, say, the doughy sweetness of Paris. Something like... crepes.
Introducing
La Tour Eiffel
, the city's first food truck for supplying all manner of crepe and smoothie cravings, launching this Thursday at City Hall Plaza (and permanently parked there).
So say you're headed to an early-morning meeting around Government Center. So early that you skipped breakfast (the drawback to those AM sit-downs with Menino).
That's when you'll look to the Eiffel Tower (on the hood of the truck) for some
egg-based sustenance
. Your options: traditional cheese and fruit crepes, the Nutella-and-bacon-filled
La Chocolat
and the
La Vie en Raclette
, made with Yukon Gold potatoes, ham and raclette and gruyère cheeses (meeting your ham-and-cheese-anything quota for the morning).
Or just grab some french toast that uses brioche bread dipped in their crepe batter. Which should be consumed with a Nutella frozen hot chocolate smoothie.
There's even a flat-screen mounted on the side of the truck near the window, so you'll be able to catch some news or the Sox while ordering.
Warning: this may result in excessive loitering/crepe consumption.