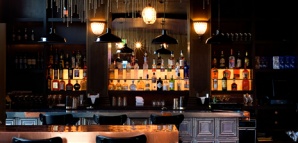 When you think of the area around 9th and Folsom, you generally think nightclubs and DJs.

Which means you wouldn't dare head out there before midnight.

Here to change all that is Medici Lounge, a sleek new Italian-American restaurant and bar, soft-opening this weekend in the heart of Clubland.

You can just as easily come here for a mellow dinner after work as you could for a few cocktails on a first date. (It's a restaurant, it's a bar, it's a lounge. It's everything but a club.)

Start at the copper-topped bar with a few Italian-influenced cocktails like the potent Medici Mule (Hangar One kaffir lime vodka and ginger beer) or the tangy Under the Tuscan Sun (limoncello, prosecco and Grand Marnier).

Before the walls start spinning, move on to the food. We'd kick off with the Octopus Crudo, prepped to order in the intimately sized dining room (which is essentially tableside). Then proceed to the pasta course with Mushroom Sugo Tagliatelle, and end with the hearty Skirt Steak with Roasted Smashed Potatoes.

That ought to provide enough sustenance for hitting the clubs.

Or for making your way back up to the bar...