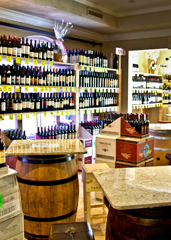 Today, let's address the essentials of any great wine shop:
An abundance of wine. Proper edibles. The opportunity to showcase your paso doble to the strains of a live Spanish guitarist.
Okay, that last one isn't mandatory. But maybe it should be...
Say hello to
Happy Wine in the Grove
, a paella-serving Spanish taverna masquerading as a wine shop, now open.
So yes. It's a wine shop. And it looks... wine-shop-y: stone floors, wood racks, 1,200 types of vino, that sort of thing. Oh, and it's all housed in a white-facaded building from 1938.
You'll come here for a few reasons. To pick up a bottle of Cocoa di Vine (a white wine blended with chocolate cream)—before a date on Grove Isle. If you want to try before you buy, they'll also pour a bottle into a decanter and serve it up in a Riedel glass, all proper like. (Go ahead, raise your pinkie.)
Or come on a Friday or Saturday night and dance with a curvy Colombian whose hips clearly don't lie, drink rioja and feast on platters of spicy chorizo and paella whipped up by a chef from Valencia, Spain.
Guayabera optional.