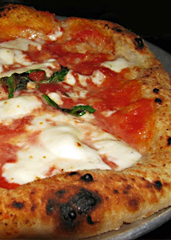 It's Friday. Let's do something sacrilegious.
We know what you're going to say: eat a bowl of soup on the 6 train.
Egh, not blasphemy-y enough.
You need to think bigger. You need to think brasher. You need to think like Giulio Adriani.
Who's Giulio Adriani?
Well, he's the guy with the stones to deep-fry a pizza.
And he's the owner of
La Montanara
, the world's first/only pizzeria dedicated specifically to the fried pie, opening Wednesday.
Before you huff and puff, perhaps consider the late-night implications of this. Okay, now factor in that it's located on Ludlow, open long after last call and operated by the same man who's behind Forcella...
... And, why yes, that is potential you smell. Also, flash-fried salami piccante pizza that's been cooked in sizzling sunflower oil and then baked in a 900-degree oven.
All in all, this stuff isn't a whole lot different than a regular margherita (assuming that regular margherita is made by a master pizzaiolo who was born and raised in Naples). It's slightly crunchier, slightly sweeter, and the crust is a golden, crackly brown. In other words, takeout (they also do rice balls and pizza-dough sandwiches) from this 12-seat spot goes great with a beer. Or in a few weeks, a ball game.
Watching, that is. We don't recommend eating while playing shortstop.