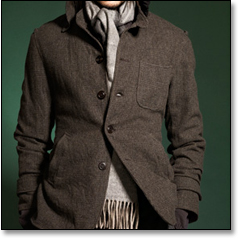 From past experience, you know this: There's something about a man in a tux that drives women crazy.
And while you're not about to rock a penguin suit at the coffee shop, it's good to know you can wear clothes made by someone who got his start designing them on Savile Row.
That would be
Oliver Spencer
, the London-based clothes hound known for his collection of tailored streetwear with modern Brit flair (read: peasant chic). His autumn/winter line is hitting the racks now at Nomads in Hayes Valley.
The great thing about Oli's clothes is they're designed to complement any wardrobe, so you can pepper your current ensemble with a few key items. We like the wool
Peasant Jacket
with detachable collar (pictured), and the '30s-inspired
Officer's Jacket
, with tweed on the outside and a camouflage lining (finally, a suitable place for camouflage). Add a hand-knit English sweater like the navy
Clash Jumper
with contrast knitting at the shoulders, and you're ready for a night at the pub.
If the look seems familiar, you might be thinking back a few years. Brad Pitt, Benicio Del Toro and the rest of the
Snatch
crew wore Spencer's stuff in Guy Ritchie's flick about London criminals. And we don't need to remind you how women feel about bad guys.
Or Brad Pitt.