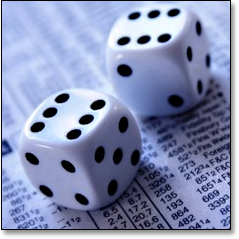 The recent antics on Wall Street don't exactly have you excited about trading stocks right now.
Maybe it's time you switched to a market a little less volatile...like professional football.
Say hello to
Oneseason.com
, launched last week by a couple of hedge fund analysts in San Francisco.
Like Wall Street meets Sports Street (if there were a street named Sports Street), Oneseason lets you use real money to acquire and trade virtual sports stars, and through a free market system driven by supply and demand, you can realize real gains—i.e., make money.
The website looks like a financial trading site, complete with a scrolling bar that displays current market activity on stocks like LTEE (LaDainian Tomlinson), FAVR (Brett Favre) and KING (LeBron James). Open an account for as little as $10 and begin buying up shares of athletes whose stock you see rising in the public's eye. Sell off before they get caught cheating with Madonna or tearing an ACL, or both.
You can invest in current or retired players (shares range from fifty cents to twenty dollars), as well as entire teams and leagues. And at any time, tell Oneseason to transfer out your free cash, and they'll send you a genuine paper check.
Wall Street, we hope you're listening.