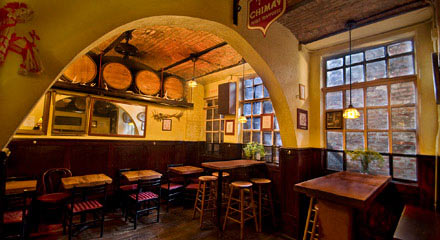 As summer fades and girls pack away their bikinis, tank tops and sun-fueled libidos, we've come up with a surefire way to stave off the winter depression:
strong beer
, hearty food and the occasional trip to Miami.
Jimmy's
gets you two out of three.
Jimmy Carbone (formerly of Patio) knew he had found the spot for his next restaurant when he walked into this basement with vaulted brick ceilings, stained glass lamps, and halved oak barrels lining the walls. All Jimmy had to do was convince the Hungarian men's club that occupied the space to sell, add some butcher tables for seating, and start cooking.
The result is an old-world, family-run rathskeller. The menu—
European comfort food
—features simple, hearty dishes like beef stew with Victory IPA, carrots and potatoes. The
Worker's Special
—one cold plate, one hot plate and two glasses of beer for $20—changes every night based on what's fresh, what's local and what goes best with beer.
With bottled beers like
Val-Dieu Triple
and
Chimay Blue
clocking in at 9% alcohol, vintage beers like the
Samichlaus 1994
and several offerings from Brooklyn newcomer
Six Points Brewery
, Jimmy's proves that beer can be worth the buzz—and the hangover.
So as autumn sets in and temperatures creep southward, Jimmy will be waiting with open kegs and heaping plates. As for the Miami trip,
you're on your own...