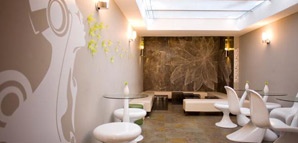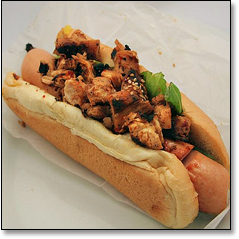 Culinary tricksters have always looked to dazzle you with reimagined street fare.  
Sometimes it works (David Chang's
Ssam Bar
burritos), and sometimes it's best to stick to the basics (we're looking at you,
Cheeseburger Spring Rolls).
 
So even though you may have seen your fair share of foie gras burgers, let us recommend the first US outpost of a wildly popular Korean hot dog chain with a twist: New York Hotdog & Coffee, now open on Bleecker Street.
 
Despite its simple name and minimalist white décor, New York Hotdog & Coffee comes off as the quirky Korean lovechild of Crif Dogs, Woo Lae Oak and Starbucks.
 
The first thing you'll notice walking in the breezy storefront are startling oversized posters of happy eaters scarfing down various hot dog monstrosities. And you'll do good to follow suit. Go for a weekend lunch, start with a Bulgogi Hotdog (a beef hot dog topped with Korean bbq'd beef) or a Dak-Kalbi Hotdog (a chicken sausage topped with teriyaki chicken), and settle in the back lounge for an East-meets-West midday double meat treat.
 
The rest of the menu includes randomness like hot dog-shaped waffles, smoothies, frozen yogurt, coffee and a few breakfast noshes like the glorious flagel (a flat bagel).
 
Call it East meets West meets Middle East.