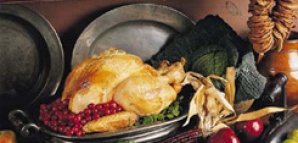 Long before vegetarianism and veganism and raw foodism criminalized the act of eating well, there were French people. And love them or hate them, French people know how to eat well. They shoot animals. They cook said animals in lots of fat. And then they get drunk while eating them.

For those of us stranded in this land of epicurean Puritanism, all of this can lead to only one conclusion—bless you, Anthony Bourdain. Bless you.

Known as much for his foul mouth as his duck confit, the renegade chef's latest ode to culinary hedonism is the Wild Game Feast at Brasserie Les Halles (from November 4 through November 11). It's a celebration of French boar hunting season featuring a menu of freshly shot meat-wild boar stew with root vegetables, pheasant two ways, and, of course, wood pigeon salad.

Not to be outdone, Bourdain's more refined colleague Daniel Boulud is offering his own tribute to the hunt with his inaugural Fall Game Feast at Daniel on November 10. The $385 five-course prix fixe meal featuring venison, partridge and grouse is so gamey that you might just consider changing your citizenship—if not for life, than at least for a meal.

Together, both special menus are reminders that some things are more important than geopolitics—like eating well. Or at least sticking it to the vegetarians.