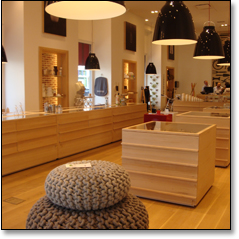 Obviously, you've been reconsidering your major investments of late.  
Best to stick to the absolute essentials—like giant flasks, miniature robots and the occasional design-y sex toy. All of which can be found inside the new
Santa Monica store Tools for Living when it opens tomorrow.

You might initially dismiss the place as a bit chain-y (it's the new offspring of the Design Within Reach empire), but you won't find overpriced furniture here. Just rare goods that'll help you class up your everyday routines like shaving and—in the case of the new Stanley flasks that pay tribute to your grandfather's thermos—drinking.
 
Of course, you may also get distracted by the robots, the battery-powered lawn mower and the brillo-pad ottoman that was knitted with giant needles. And what looks like a paintbrush with saggy bristles is actually an Iris Hantverk humane flyswatter—it supposedly stuns its target instead of squashing it, so you can set it free outside. (She's always liked your sensitive side.) What you won't find is that teepee you've been after—but, not to worry, that's on the website.
 
Because you don't have to think twice about a teepee investment.