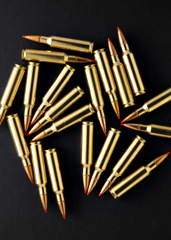 Your Saturdays are reserved for the finer things in life.
The MFA. Mozart's
Le Nozze di Figaro
at Symphony Hall. Sleeping in.
But every once in a while, smoking a bunch of cigars while shooting semiautomatic guns is your idea of a fun Saturday.
Even better: when there's grilled burgers and hot dogs afoot.
Presenting
The Smoking Gun
, a one-day stogie- and Uzi-filled afternoon courtesy of a 65-year-old Worcester tobacconist, taking reservations now for April.
Like any Saturday featuring grilled meats and liberal interpretations of the Second Amendment, it all starts with a phone call. In this case, to the Owl Shop (an old-school tobacco store that has been satisfying stogie urges since 1946) to reserve your spot.
Then, a few weeks from now, you'll make your way to an outdoor gun range and join other gun/tobacco enthusiasts (aka red-blooded Americans). You'll be handed a half-dozen cigars (sorry, no Cubans) and some pistols (Beretta, Glock 9mm, Smith & Wesson), which you'll start unloading on targets around 25 feet away (yes, there'll be competitions and small prizes for marksmanship).
And once you've spent some time with the pistols (not to mention the burgers they'll be grilling), you'll finish out the day by smoking a few more cigars and firing an actual Uzi.
This is as close to
Red Dawn
as you're ever going to get.