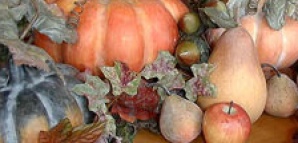 So everyone you know is heading home for Thanksgiving—everyone, that is, but you. Which, as it turns out, is a good thing, because while everyone else is busy trying to chew through mom's turkey, you'll be eating a Thanksgiving meal prepared by the likes of Bobby Flay, Marcus Samuelsson or Kurt Gutenbrunner. We've scoured the city to find the tastiest Thanksgiving meal options—best of all, you won't have to help with the dishes once you're through.
WHAT:
The Italian Bird
WHERE:
Barbuto
,
775 Washington
, 212-924-9700
COST:
$45 per person
THE BIRD:
Tacchino Americano al Forno
—a roasted free range turkey with an oyster-hazelnut stuffing and traditional gravy.
THE MEAL:
This is the best bet for a hearty and relaxed Thanksgiving feast. Chef-Owner Jonathan Waxman starts off with antipasti like
Crostini di Prosciutto e Castagne
(garlic toast with prosciutto and roasted chestnut), then offers a
Ravioli di Zucca
(ravioli stuffed with pumpkin and served with sage and brown butter). Dessert is
Panna Cotta alla Zucce
, pumpkin chilled custard or an apple and pear pie with vanilla ice cream.
WHAT:
The Bird with Sushi
WHERE:
Riingo
,
205 E. 45th St
, 212-867-4200
COST:
$45 per person
THE BIRD:
Pomegranate roasted turkey breast with corn bread and sausage stuffing.
THE MEAL:
This uber-simple menu at the ultra-sleek
Riingo
will make for a non-traditional Thanksgiving meal, since you can also order some sushi off the regular menu. Along with the turkey, Samuelsson will serve a sweet potato soup with ginger marshmallows and a pumpkin cheesecake dessert.
WHAT:
The Flay-ed Bird
WHERE:
Bar Americain
,
152 W. 52nd St
, 212-265-9700
COST:
$75 per person
THE BIRD:
Maple horseradish glazed roast turkey with sourdough, wild mushroom and bacon stuffing.
THE MEAL:
This spot offers a wealth of alternatives to tryptophan—Flay is also offering a cedar planked salmon with crawfish sauce and roasted brussels sprouts as well as a rack of pork with apple ginger chutney, sour mash, and cauliflower-goat cheese gratin. Desserts include maple meringue crème brulee and triple pumpkin bread pudding.
WHAT:
Bird's-Eye View
WHERE:
Asiate
, Mandarin Oriental,
80 Columbus Circle
, 212-805-8881
COST:
$95 per person
THE BIRD:
Roasted turkey with vanilla-scented chestnuts and savory herb bread pudding
THE MEAL:
The killer panoramic view and multi-course meal atop the Time Warner building make for a decadent Thanksgiving—the menu includes lobster and fingerling potato chowder with Vermont cheddar, main course options like halibut, prime rib and risotto, and a trio of chocolate truffle torte, blueberry crisp and pecan pie mousse for dessert.
WHAT:
The Wet Bird

WHERE:
World Yacht
, Pier 81, Hudson River and W. 41st St, 212-630-8100 (boards at 6pm)
COST:
$85 per person
THE BIRD:
Traditional turkey with mushroom and cornbread herb stuffing.
THE MEAL:
There is nothing better than feasting on a yacht except, of course, feasting on a yacht featuring a Samuelsson three-course menu while sailing around the Hudson. Filet mignon, salmon and bison meatloaf are alternatives to the main turkey course and end with traditional desserts like pumpkin pie, apple crumb cake or pecan pie.
WHAT:
The LES Bird
WHERE:
Thor
,
107 Rivington St
, 212-796-8040
COST:
A la carte
THE BIRD:
Forget turkey, venison was on the very first holiday table, and Chef Kurt Gutenbrunner pays homage to history with a parsley-crusted venison with brussel sprouts and lingonberries (he'll also serve turkey).
THE MEAL:
Order Thanksgiving specials a la carte alongside the regular menu; specials include celery root soup, smoked salmon with apples, and pumpkin cheesecake with maple syrup ice cream.
WHAT:
The Bird...at Home
WHERE:
Your Apartment
THE MEAL:
You can barely fry an egg, much less baste a bird, but you can pick up a phone to dial in your meal—not many places deliver turkeys on Thanksgiving day, but
Butterfield Market
($95 unstuffed, $135 with stuffing; delivery additional $20-$50), and
Zabar's
($58-$85 unstuffed; delivery additional $25) do and also offer an assortment of sides. For something less traditional,
Jive Turkey
offers 15 flavors of whole fried (that's right, fried) turkey, including Jamaican Jerk, BBQ and Mexican mole ($45-$75) and ships it to you the Tuesday before Thanksgiving (shipping to Manhattan $10). If you don't mind picking up your turkey, try
Whole Foods
, which is open until 3 p.m. on Thanksgiving. Since the last thing that got baked in your apartment was...well, you...order an apple crumb, pecan or pumpkin pie from
'wichcraft
for pick-up or delivery ($22, serving 6-8 people). They also have homemade vanilla ice cream for $8 per pint.