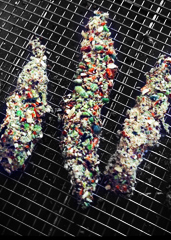 Sixty-eight degrees in the middle of March.
Winter nonexistent.
World ending.
And believe it or not, that's the second most important development of the day.
Yes, ground-breaking chicken-tender news always supersedes the spoils of global warming.
So say hello to
Sticky's Finger Joint
, New York's first and only counter space dedicated solely to the glory of the chicken strip, slated to open next Wednesday.
It's a simple little spot, really—kind of like Shake Shack for chicken fingers. Black and white and red all over. Some graffiti. A few metal tables. A low-lying L-shaped bench. In other words, nothing that gets in the way of you, a basket of tenders and the 18 different seasonally rotated dipping sauces you require to properly enjoy said basket of tenders.
The classic finger here: true, trusted, dredged with just the right amount of buttermilk and breadcrumb. A fine order. But what you really want to try is one of their original creations. Like the wasabi-crusted, ginger-paste-rubbed, seaweed-flaked number. Or, depending on your comfort level with carnival food/propensity for accepting dares, the still-in-the-experimental-phase cotton-candy-flavored finger.
And arriving soon, happy meals. They'll include chicken, fries, a piece of candy, a can of beer and the prerequisite toy.
For ages 21 and up.