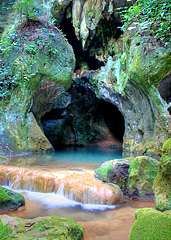 From the Oscar-winning director who brought you
The Godfather
,
The Conversation
and the Oscar-winning director of
Lost in Translation
...
...comes the most epic inner-tube adventure of this generation.
Yes, we said inner tube.
Introducing
Blancaneaux Lodge Cave Explorations
, a series of Mayan cave diving/canoeing/tubing excursions through the uncharted jungles of Belize, accepting reservations now.
So to commemorate the apocalypse (the silly Mayan calendar thing, not the Brando one), Coppola's Belizean resort, Blancaneaux Lodge, is offering you the chance to explore some of the sacred local tribal caves. Ignore the fact that this sounds like a horror movie setup for a moment.
Because at your disposal: five thrill-seeking itineraries covering a dozen different subterranean gateways. Think 4.5-mile canoe journeys down waterfall-fed streams that are teeming with exotic fish, lush flora and ancient ritual-sacrificing altars. Or swimming sojourns through narrow caverns armed only with a headlamp and a pair of aqua socks.
Of course, if that all seems like a bit too much physical exertion for a tropical vacation, you can always opt to travel the caves by inflatable tube.
We're pretty sure that's how the conquistadors did it.