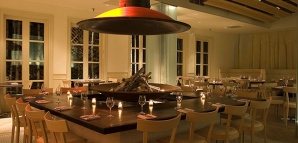 So you've heard the buzz about Aspen, the new restaurant, bar and all around urban ski lodge. There have been conflicting reports on the opening, décor and menu, and at this point you're ready to write it off as the next oversold spot. Don't.

Owner Greg Brier, a Colorado native, gave us an inside look and taste in the new Aspen dining room: It's set to open to the public tonight and well deserves the hype.

Ski Lodge Vibe
Up front, the sceney lounge has a rustic ski lodge vibe, with rough-hewn wooden walls, a copper ceiling, and lucite deer heads above the bar. The back room is filled with curved white banquettes and glass aspen tree murals. The coolest—or hottest—seats in the house are at the sixteen-seat communal table around the giant copper fire pit in the center of the room.

Amped Up Portions
While serving "small plates" has been a trendy way for new restaurants to avoid serving you actual food recently, Aspen gets it right by amping up the portions and the quality, while nailing our American fondness for eating large mammals. The bison sliders (which taste like really juicy, delicious mini burgers), pomegranate lamb chops, and polenta fries are outstanding. An array of animals—elk sausage, brook trout tacos, and steak bites—rounds out the small, eclectic menu.

Staying Warm
Although names for the drinks haven't been chosen yet, it's the booze that counts. Starr African rum and clove, coffee, and orange zest infused Compass Box Asyla Scotch anchor this list of exotic drinks.

Forget about writing off Aspen—the food is fantastic, the drinks will keep you warm into the night, and the overall experience is a little less ski and a little more—après.