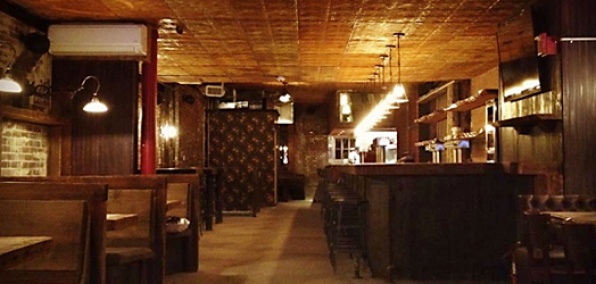 Let's talk about beer.

Actually, let's not. Seems like a waste of perfectly good time that could be better used drinking it.

But you'll need a place where you can really focus...

A place like Randolph Beer, a consummately spartan wood-and-lead-piped ode to hops, classic bar provisions and strong java, opening soon in Nolita.

The name Randolph probably rings a bell. That's because this is from the same folks who brought you the Randolph at Broome, the cup-of-joe and cocktail haven a couple doors down the road. Now they've graduated to two of your all-time favorites: beer and edible things.

The place looks like an Otis Redding song sounds. A warm, stripped-down, wooded space that's only missing a lingering veil of smoke.

You'll grab a booth with a few friends to discuss the big stuff over a lineup of rare American microbrews. And burgers. Ones topped with fried egg, thick-cut bacon, cilantro and sambal aioli that laugh condescendingly at their buns. And finally—as the night wears on—rich, life-affirming cups of orange-peel-augmented coffee.

And in case you've forgotten, it's March now. Which means April approaches, and with it, friendly weather patterns and your annual patio fever. When they arrive, you'll have at your disposal the kind of outdoor garden that makes a Barrier IPA 30% crisper.

A theory you'll want to rigorously field-test.