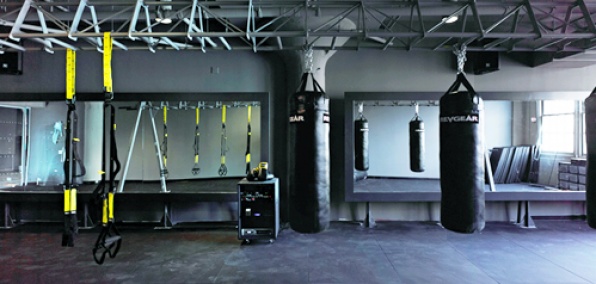 Gyms can be pretty predictable.

There're treadmills. There're dumbbells. There're the occasional over-sweaters.

You show up, you work out, and you leave.

But it doesn't have to be that way.

So here's an Olympian turned personal drill sergeant to show you the light.

Introducing Studiomix, a two-floor total training facility where members are treated to classes taught by highly decorated instructors... followed by steams, saunas and monthly massages, opening tomorrow on Van Ness.

This place was once a Crunch Gym. Yes, it was the one with those creepy, semi-see-through showers. Well, those are gone. Here and now: a three-story climbing wall and five new fitness studios designed for everything from TRX to cycling to MMA (sans the chain-link cage).

If you're looking to bulk up or headline an action-movie franchise, you'll utilize the strength studio. That's where they hold circuit sessions that have you working out with sledgehammers, sandbags and land mines. Relax, they're not active.

The 19 other classes, well, they're all helmed by former Olympians, national kickboxing champs and international kettlebell pros (yes, that's a thing). Of course, you can always hire them for personal training sessions (go ahead, call them master).

Sign up for a Results or Lifestyle membership (Studiomix's highest tier) and you'll get those PT sessions on the house. Also, laundry/locker service and a regular monthly massage.

In case you need some extra incentive.