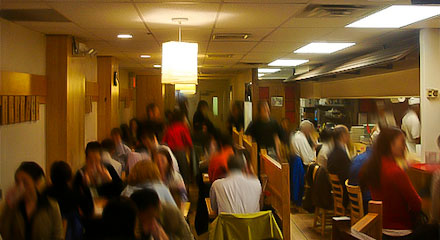 With the chilly weather setting in and a nasty Nor'easter predicted for Thanksgiving, your thoughts turn to winter necessities—coat, hip flask and warm-blooded
snow bunny
. But you need to eat and for piping hot comfort food, nothing beats a hearty bowl of steaming noodles. There are plenty of good downtown ramen spots like
Momofuku
, but uptown's a little harder. We scoured the city north of 14th Street, and the search paid off big.
Secret of West 49th
Midtown's hidden ramen gem is Sapporo. It's easy to miss in a row of nondescript restaurants—the only telltale sign of the noodle goodness waiting within is at lunchtime, when the line of people extends out the door (avoid the 12:15-1:30 lunch rush hour, although the line moves quickly).


Churn 'N' Burn
Forget decor, it's all about the food. Grab a seat at one of the tightly packed tables. Service is "churn 'n' burn"—at peak hours, you'll get your check with your entrée. Appetizers like the gyoza are tasty, but the ramen entrees are the star—for under $10, you'll get a massive portion as big as your head (unless you have an freakishly large head).


Decisions, Decisions
Sapporo offers a dozen kinds of ramen—we'd suggest the mabo ramen (noodles with minced pork and bean curd), a hearty stew-like dish that is nearly impossible to finish—or forget.


You're now fortified against another New York winter. As we're sure you've been told in other contexts, that's using your noodle.