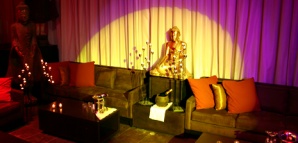 There's a kinship between Miami and Vegas. The hot climate, the wanton morals, the occasional Shaq sighting.

And if there's one club that captures the Sin City feel, it's the downtown club Karu & Y, reopening Friday after a short hiatus and some necessary adjustments.

The Chihuly glass chandelier, 3D flat screens and floor-to-ceiling wine corridor are still intact. But there are some new additions to the show: Asian Buddha sculptures, a champagne room and a permanent bar in the space that was Tottem Gardens. (The restaurant is set to open in November, so for now count on dining elsewhere.)

The new owners haven't tweaked the labyrinthine layout. Walk through an entryway of cascading water walls and take your pick of five areas offering a little something for every mood. Turn left for a few hard drinks at Y lounge or right to the new Champagne Lounge. If you feel like some high-roller partying, head to the new Buddha Club and Buddha Gardens, where a commitment of four bottles garners you a personal concierge. Hit the outdoor garden lounge and its cabana beds if you're looking for a "chill" way to experience the club (yes, there is a chill way to experience Karu & Y).

With an opening party hosted by Playboy Playmate Kendra Wilkinson, the scene won't be hurting. As for the future of the new incarnation, they're betting the house on this one.

Hey, it's only money.