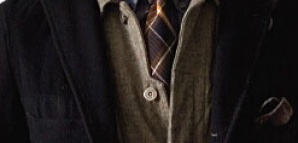 It became official yesterday.

It's fall.

Before you know it, you'll be tossing logs into the fire after a cozy dinner for two.

And that means it's time to start thinking about your rustic side.

Enter Engineered Garments, the brand that Paul Bunyan would wear if he ever took style cues from Don Draper. Its fall/winter collection is now available at MAC in Hayes Valley, as well as the big department stores around town (Bloomingdale's, Barneys).

Engineered Garments is helmed by a Japanese-born gentleman named Daiki Suzuki, but don't let the name deceive you. Daiki knows 1950s and '60s American workwear like the back of his hand—so much so that he's recently designed ensembles for Woolrich and Levi's.

His fall/winter collection features heavy Navy-inspired shirt-jackets, plaid flannel field shirts and wool skull caps. (Think Brando's Terry Malloy in On the Waterfront.) Or if you want to keep it a bit more professorial, go for Engineered's 19th-century shirt and tweed Bedford-style blazer with leather elbow patches, finished off with a flannel tie and pocket square (pictured).

Not exactly wood-chopping clothes, but then again, you didn't really want to chop it. You just wanted to look good throwing it into the fire.