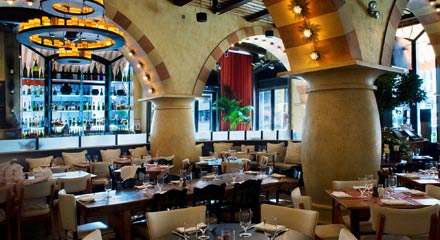 Been itching for some good tzatziki? Lucky for you, Barbounia (Greek for "red mullet fish") is opening tonight on—where else—Park Avenue South.

The open 100-seat restaurant looks nothing like the old Patria space, with a floor-to-ceiling glass wall behind the bar (to ogle outsiders), beige banquettes, and strategically placed candles, which we're told will "make anyone look good." Throw in the fully stocked white marble bar, with a huge selection of grapas and ouzo, and you have a great after-work (less intimate) date spot.

For the best seat in the house, try scoring a spot in the back corner to ensure yourself a full view of the scene, which will likely include a few bold-faced names, thanks to the connections of owners Danielle Billera and Matthew Johnson (Sushi Samba), and Simon Oren (Nice Matin, Marseille). Executive Chef Michael Cressotti (Sushi Samba, Patria) will cook up modern Greek dishes in an open kitchen, including the namesake red mullet fish and a delicious charred octopus confit.

The flatbreads with tzatziki are a perfect starter to whet your date's appetite; for the main course, the oven-roasted moussaka has a rich sauce and crunchy top, making it the perfect cold weather comfort food. And if the food doesn't keep you warm, we're certain that a combination of your date and the ouzo will.