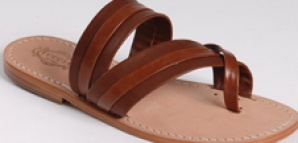 In Miami, certain rules hold true. No one will be on time, bikinis are acceptable brunch wear, and it is always sandal season.

But it's hard to find just the right pair of mandals. 

Luckily the ladies who run Tuccia Di Capri, the handmade sandal boutique in South Beach, have just introduced men's sandals.

Using the same Italian cobbler techniques that they use for women, the store owners (both former models) make each pair to order, custom-fitting your foot using imported Italian leather and classic leather soles. The four men's styles include a traditional T-strap, a python skin slide and a two-tone brown thong. (You've always liked a good thong in South Beach.) 

You'll also appreciate the store's European resort feel, complete with plush velvet chairs, glossy white shelving and plenty of champagne on hand to put you in the right foot-baring mood. The sandals take half an hour to construct, which means you can grab lunch on Lincoln Road and return to find your personalized pair.

Or you may want to stick around while they make them. After all, they were models.