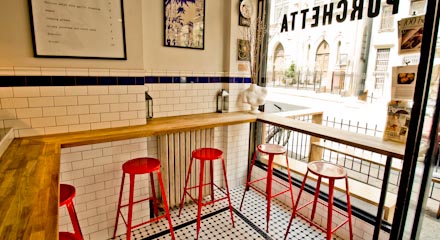 You've been known to appreciate a
foie gras doughnut
from time to time, but some things are best kept simple, stripped-down and delicious. For instance, the sandwich. And roast pork. Possibly at the same time.
Introducing
Porchetta
, the East Village's new destination for that staple of Italian street food, the slow-roasted pork sandwich.
Opening today, this little nook is the brainchild of I Coppi's Sara Jenkins, who's trading her usual upscale fare for a more direct take on Italian cuisine. That means spicy pernil chopped onto ciabatta with the rind mixed in for a little extra kick, then wrapped in butcher paper and tucked into your briefcase for the road. There's also a mozzarella version for the cholesterol-minded, and the
Porchetta Plate
, a mound of pork so big it might take you all week to get through it.
They've got a few stools and a counter inside, but we recommend a lunchtime stroll through Tompkins Square Park if you're looking for stimulating sights. Otherwise, just stay inside and admire the enormous pork loin on the counter.
It may not be foie gras...but we're certainly not complaining.