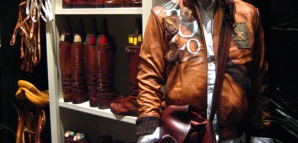 It's one of the world's great ironies.

When not playing polo, a Polo shirt will do.

But when you're actually on the horse, advancing that ball with your mallet, one of Mr. Lauren's shirts just won't cut it.

You need something more durable and ruggedly stylish. Something from La Martina boutique, a Jay Gatsby-meets-Buenos Aires polo store newly opened in Aventura Mall.

From the Argentine clothier responsible for outfitting the national polo team comes a store laid out like a posh supply den. Amidst cowhide chairs, polished trophies and walnut shelves are stacks of polo jerseys, horse saddles, mallets, kneepads and spurs sturdy enough to withstand competition—yet, suave enough to serve as droll accessories should you decide to go for that mounted-horseman look. (And we say you should.)

This being a South American company, there's plenty of leather amid the equestrian bounty. Riding boots, bomber jackets and worn-in luggage are composed of tobacco-colored hides and covered in enough patches and logos to leave no doubt whose team you're on. 

Just don't try rolling up to Kobe Club on horseback.