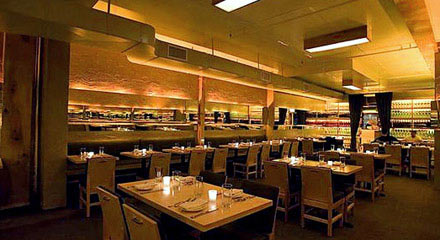 After the success of Italian hotspots Peasant and Apizz, executive chef John LaFemina is back with his latest venture,
The
Orchard
, which held its soft opening last night.
Situated around the corner from Thor and
The Stanton Social
, the equally trendy but cozier
Orchard
features a sleek wood design, accentuated with wooden chairs, floors and chocolate hued banquettes.
We especially liked the clear glass cases stocked full of Sofia wine. Add to this the mood lighting and Orchard becomes the perfect casual date spot. Order the drunken goat cheese salad topped with cherry tomatoes and a creamy red wine vinaigrette sauce, which is about as drunk as you'll get on Orchard's dime since the eatery isn't scheduled to get its liquor license for another two to three weeks. Fortunately for us, we learned long ago to be prepared for such situations by bringing our own choice sauce. After all, nothing will make LaFemina's braised lamb shank, poached striped bass or cornish hen go down better than a bottle of vino...or two.