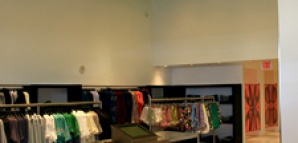 Fashion in this city can be a bit flashy. Sure, there are classy
guayabera designers
, but for the most part we haven't progressed much past Crockett and Tubbs.
That's why it's sometimes necessary to bring in the big guns, the professionals from our nation's sartorial capital. We're talking about the much buzzed-about New York import
Big Drop
, opening at the Gansevoort South on Monday.
With their penchant for designer goods and love for the understated-yet-stylish, the store promises to outfit you with nary an embellished T-shirt or embroidered jean. The spacious showroom, complete with signature colored plexiglass and blaring soundtrack, stocks both men's and women's clothing, so there'll be plenty of ladies around if you feel like getting an honest opinion (and maybe a phone number).
You'll want to focus your attention on labels like Yoko Devereaux, Trovata and Modern Amusement for fitted jeans and graphically scaled-down tops. The store will be the first in Miami to sell Israeli designer Yigal Azrouel's goods, from fitted shorts to scrim-like sweaters perfect for layering. Or opt for post-apocalyptic gear from Ksubi like dark trench coats and Skywalker hoodies.
Because when Armageddon hits, you'd hate to be the one in tight white pants.