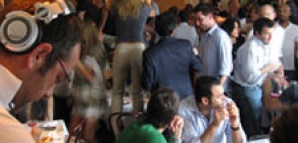 So, this hasn't exactly been the best week.
It's okay. You'll survive. But at this point, the weekend can't get here fast enough—which is why come Saturday afternoon, you might want to find your way over to
Bagatelle
.  
Now, we know what you're thinking: mild-mannered, Euro-heavy, MPD pre-drinking spot Bagatelle for brunch? Really? But over the last couple months, under the midday sun, we've found the white-and-candles bistro to be showing us its true colors. In fact, the place has been quietly developing what seems to be a champagne-fueled
Girls Gone Wild-
esque afternoon dance party. And, as usual, we think you need to know.
Like with anything good, you won't be showing up early. Your reservation should be set somewhere around 1:30, at a back banquette, with a standing order to keep the Bellinis coming. Things begin innocently enough, but around 2pm, the bottom drops out and almost out of nowhere the music gets louder, champagne starts spraying, waiters fly out of the kitchen with sparklers (we're not sure why but we like it), and every table top seems to become an impromptu dance floor (do your best not to be concerned about the stiletto prints on the white tablecloths).
Try not to let your eggs get cold.