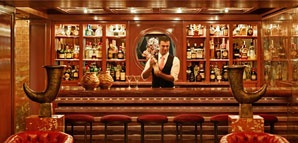 There are plenty of drinking spots in the city, from touristy frosty beverage stands to sleek lounges brimming with eye candy. But the subdued, intimate spaces are harder to come by. Places where you can practice the fine art of conversation while sipping something with class.

Introducing Coral Bar at the Tides hotel, an Ocean Drive cocktail den safely removed from the rowdy fray.

Designed by Kelly Wearstler (she's responsible for the sexy Old Hollywood look at LA's Viceroy hotel), the jewel-box-sized space is all rusty reds and tan leather. Gold drum tables and oyster-colored pedestals make fine drink stands, while the Peruvian stone bar is outfitted with only six stools—perfect for getting to know your date over quiet chats.

While the bartenders here can whip up whatever beverage you're fancying, the focus is on rum, steadily becoming this city's quaff of choice. The rum sommelier (yes, they do exist) will guide you through a selection of thirty rums from twelve countries and help you put together a rum flight (Bacardi vs. Matusalem vs. Flor de Caña) while you debate the nuances of the dark, light and aged spirit.

It's a bar worth ending your night in. With, thankfully, no blender in sight.