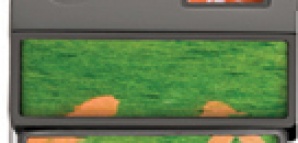 When it comes to relationships, you expect a little reciprocation every now and then. After all, life is a two-way street.

But recently, your kinship with celebrities has been feeling a bit one-sided. Seriously, what has Jack Black done for you lately?

Here to restore balance is Nixon's LTD Collection, composed of unique timepieces designed by music and entertainment icons. This is the fifth such collection for the company, having collaborated in the past with luminaries like Tony Hawk and Jennifer Lopez. 

The base for this year's design is Nixon's boxy Rotolog model. The futuristic panel-style band serves as the clean slate onto which stars like Ringo Starr, Motley Crue's Nikki Sixx and Lynyrd Skynyrd project their creative visions. (So now every glance at the time can be dripping with Southern rock sweetness.)

If you're more into polished wackiness, go for the Jack Black-designed watch, with a green-and-orange color scheme and doodles of devilish cartoon characters.

It might not make up for Tropic Thunder, but at least he's trying.