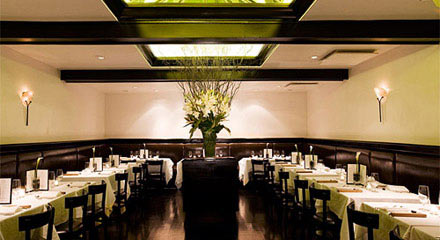 Philippe Chow, the man long behind the stoves at legendary hotspot Mr. Chow, gets a restaurant of his own this week with the opening of the eponymous
Philippe
.
Given his CV (27 years at Mr. Chow) and the Rolodex of his co-owners (one's got an editor girlfriend at
Vogue
), the Madison Avenue bi-level will be abuzz with models, moguls and mortals alike in no time flat.
Chef Chow (no relation to Mr. Chow owner, Michael Chow) and his backers Stratis Morfogen and Howard Stein (Au Bar) liven up the otherwise drab UES with a chic and modern 240-seater. The front lounge is choice for after-work cocktails (but skip the inevitable
Philipptini
); the main dining room in back is where scenesters will be noshing on Mr. Chow classics like the
Green Prawns
,
Bejing Chicken
and the pure genius
Candied Apple Fritters
; and you can always head upstairs for dining in relative peace (not to worry, though, there will be a bevy of Condé Nast girls every which way you turn).
Add a performance by the noodle chef at 8 p.m. nightly and a private downstairs dining room for up to 30 and we may have what the kids call a "hotspot."
And you just might have yourself a new go-to north of
57th Street
.