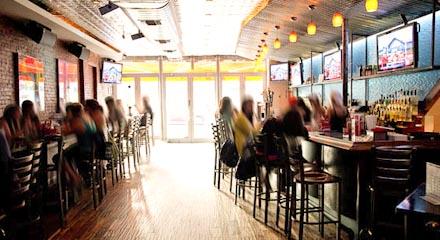 Complicated financial math is in the air—leveraged subprime loans, derivative swaps and billion-dollar write-downs.
Which is why you should be on your way to
1 2 3 Burger Shot Beer
right about now.
The financial model at 1 2 3 is refreshingly un-complex: one-dollar burgers, two-dollar shots and three-dollar beers.
Sure, it's a cheesy Hell's Kitchen bar that advertises itself as a place to "relive your best spring break moments" (which truly sounds frightening), but it serves a purpose. Think:
Pop Burger
meets White Castle meets
Rusty Knot
with a strong whiff of Murray Hill. In other words, it's an ideal place to drop off the grid (and have a Jolly Rancher shot) while the financial system restores itself.
At a whopping $6, we're pretty confident that 1 2 3 is the most financially attractive prix-fixe menu in town. Yes, the burgers are small—but, indeed, a five-pack of sliders, an
Alabama Slamma
shooter and a Bud Heavy is all the ten-dollar adult Happy Meal you need to contemplate whether the money you're saving is enough to bail out Lehman or AIG. It's not exactly the
Mad Men
, three-martini lunch you're used to, but who needs
oysters and Old Fashioneds
when you can have waffle fries and
Screaming Orgasm
shots.
Oh, and you'll be glad to know 1 2 3 accepts credit.