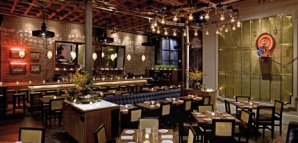 At this point in your dining history, you've seen it all. Peruvian sushi? Check. An entire menu of acid-riddled meats? Old news. The exotic Far Eastern reaches of the opium-addled colonial
British Empire?

That's a new one.

Opening tomorrow from AvroKo (the folks behind Public and the Stanton Social) is Double Crown, further colonizing the never-hotter Bowery. The lively front room feels like the perfect summer patio brought inside: a huge, lofty space with exposed brick walls, unfinished wooden tables and a veritable indoor garden. The bar extends into a communal table perfect for the party, but if you're looking for dinner a deux, squirrel her away to the set-off back with white-paneled walls and a more intimate feel.

Double Crown never forgets it's a restaurant—and any proper attack of the menu must include the Crispy Whitebait, a pile of tiny fried minnow-like fish, eyes and all, that you'll be popping like fries. And the Miso-Glazed Bone Marrow—cut lengthwise and nestled lovingly on a salt bed, that will have you licking the bone dry. Or at least craving your next dish—maybe the Tandoori Foie Gras.

If you're looking to expand westward, head around the corner to the Madam Geneva lounge—think a British version of the Bacaro basement, but with cutting-edge cocktails (bartender-brewed ginger beer) and a dark, sexy feel that'll keep you there till dawn.

When the sun's just rising on this British empire.