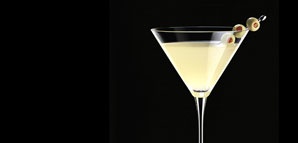 After the week you've had, we have some medical advice for you. You need a drink. And might we add, stat.

Our prescription: Power down the BlackBerry and head to Dirty Martini, soft-opening tonight in River North. While it won't compete with flashier post-work destinations, it has one advantage: They'll pour you a cold one faster than you can say "pour me a cold one"—and we're not talking about beer.

Thank a technological marvel that impresses us more on Friday afternoon than any fancy European particle accelerator. An ethylene glycol-cooled ice-coated spigot instantly chills your Effen or Grey Goose to a frigid 20 degrees Fahrenheit—well-known as the scientifically accepted temperature of the perfect martini. No shaker is needed because the vodka streams directly into your chilled, vermouth-coated martini glass, ready for you to sip in T-minus three, two, one...

Dirty Martini also offers a fairly ambitious bar menu, with sushi and even bouillabaisse instead of your usual french-fried options. But since it takes its dirty martini moniker pretty literally—every shade of green you can imagine is here—you're just as well going for the bleu cheese, anchovy or roasted red-pepper olives they'll have stocked behind the bar.

We know balanced nutrition is a passion with you.