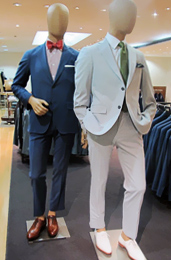 Linsanity: dead.
Sorry, it's over.
Great run, Knicks. Really, kudos.
But now we'd like you to prepare yourself for the glorious hype machine that is... Bastiansanity.
Okay, no. Sorry. That was a mistake.
But the guy is making some pretty damn nice suits now.
Prepare to wrap yourself in
Michael Bastian Suiting
, tailored lightweight jackets and pants from the man you trust with your rakish Ivy League side, available now at Barneys.
Normally, you'd be
looking to Mr. Bastian
when you're trying to channel the likes of JFK Jr. When your lobster-cooked-in-a-sandpit weekends require a dose of herringbone tweed to set you apart from the polo-shirted masses.
But now you're going to look to him when you need the type of slim-cut suit that transcends the desk and moves into "holy sh**, that guy looks good in a suit" territory. Essentially, it's what your favorite professor would have worn if he were Robert Downey Jr. and occasionally rocked a purple paisley bow tie.
With that in mind, it's simple stuff, really. Natural shoulders. Classic navy pinstripes and subtle gray windowpanes—all of it lightweight enough that you'll be comfortable in the gloriously approaching warmer months (or, you know, now). So feel free to throw it on tieless before a club excursion or maybe... jogging.
All the better to break in those cross-training penny loafers.