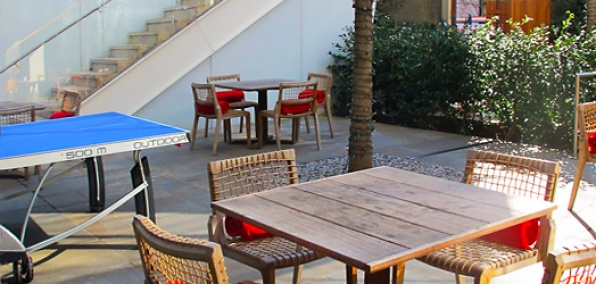 Not all of life's milestones happen at once.
Sometimes the wheels of progress turn slowly, until—without even realizing it—you've got a flawless combination of bacon cheeseburger, blue leather and paddle sport.
This is one of those times.
Pull up a banquette at
The Standard East Village
, your
easygoing house of comfort food
and ping-pong at the Standard's newest outpost, now open with limited seating.
Oh, right, the Standard now has both sides of town covered, after taking over the old Cooper Square Hotel. You probably caught wind of this while enjoying whiskey punches from your plush leather perch in the new lobby bar. But now you'll forgo the bar (just at first) and enter through the oh-so-open-for-tomorrow's-60-degree-day 5th Street patio for some after-work steak frites or post-date cocktails in what was once Faustina.
The vibe here: distinctly more laid-back than its MePa sibling. A little world wearier. Just a little readier to kick your ass and take your name at the patio ping-pong table that calls to you from among the wooden furniture and gardens.
We see you hustling the naive masses, lime-lingonberry-puree-infused cocktail in hand, in front of an awed crowd, giving a clinic on the art of topspin.
You know, keeping it low-key.