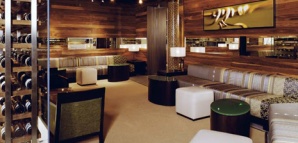 You've got your finger on the pulse of the city.

No opening gets past you.

So when you heard the buzz that Press Club—the city's first wine-tasting room—was set for its grand opening back in April, chances are you moseyed over to Yerba Buena Lane to check things out...only to find it un-opened, and it dropped off your radar.

Well, better late than never. After an epic five-month delay, Press Club officially opens. Today.

You might recall the concept: massive two-story wine bar meets multi-winery tasting room for eight heavy-hitting boutique wineries—among them, Landmark Vineyards (of the John Deere tractor empire), Saintsbury (considered the pioneer of California pinot noir) and Fritz Winery (a specialist in handcrafted old-vine zins).

Unlike an old chateau, the expansive, modern space is the ultimate swanky city wine bar—imagine a bigger Nectar Wine Lounge, with slick walnut planking.

Start in the cavernous U-shaped tasting room, where they'll pour you nothing but winery-exclusive vino. We like the Chateau Montelena Chardonnay—it's a newer version of the 1973 release that won the 1976 Paris Tasting and put Napa on the map. There's also a good pinot noir from tiny Mount Eden.

If you can narrow down the lot to a favorite, buy yourself a bottle, proceed to the lounge and open it. There's no need for aging.

After all, we think you've waited long enough.