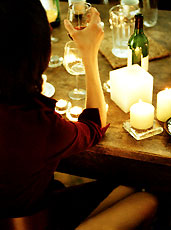 There's a new secret dining society in town from the folks behind the Hawthorne and Menton. Its name:
Brasstacks
. We took it upon ourselves to infiltrate a recent dinner and file this report. Fair warning: the dinner was last night, so our mind is still a little foggy.
You'll start on Facebook.

Friend them. Demand a seat at their next dinner. (Or just ask nicely.) Wait for the date and secret location to be sent to you.
Prepare for a Dead Poets Society vibe.

Last night's space: a modern two-story South End brownstone overlooking the park. The lighting: by candle. The decor: heavy on piano parts and large surveyor sticks.
And not many people.

Last night's dinner had 11 people. This included a Harvard physicist, a French financial analyst, a pastry chef and a Web advertiser.
Show up hungry. And wine-thirsty.

On the menu: lamb charcuterie. Then six courses of an entire lamb, taken from a secluded island off the coast of Maine. Also: cod's throat. All of which was paired with wine.
Don't make other plans.

Last night's event took four and a half hours.
There's more where this came from.

The organizers plan to open a restaurant in eight to 10 months. And later, a fondue-serving dive bar. Because nothing says secret dining society like cheap beer.