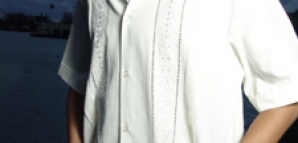 You've embraced the city's caliente culture as best you can. Cafecitos before work, dinner after 9pm,
cigars on the patio
.
But your guayabera collection is looking a little, well, mass-produced.
Here to address your Latin sartorial needs is
Marce Shirtmaker
, purveyors of custom-made guayaberas and humble restorers of mojo the world over.
Father-and-son team Mariano and Antonio Arce sew each shirt themselves, keeping the operation small and super-attentive. Unlike other guayabera sellers, they offer the bespoke shirts with long sleeves and French cuffs, taking the time to measure your wrists and account for your watch size, so that no two sleeves are alike. 
Impress the domino players on Calle Ocho with your custom-engraved buttons and relaxed cut in Italian cotton. Wow the boys at the office (and maybe a few ladies) with your meticulous vertical rows of
alforzas
(fine, tiny pleats) running along the front and back of the shirt.
Though it's only a two-man show, Marce can have your tailored shirt ready in six hours if need be—embroidered pockets and all.
Perfect for last-minute dinner plans at Versailles...or in Versailles.