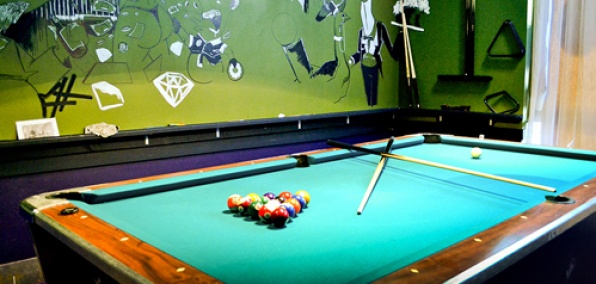 Pop quiz, hotshot:

Quick, name an elegant spot for high-end beer drinking in the Grove.

...

That's what we thought.

So allow us to introduce... The Goose, a new drinkery brimming with artisanal suds, indie rock and all of the sake-bombed pool playing you can handle, opening in the Grove this Saturday.

Basically, if Barney (as in the dinosaur) opened up a bar with a couple of his artistically inclined Mesozoic comrades, it would look something like this: purple-hued exposed ducts on the ceiling, olive-colored walls painted with surreal vegetation and a secluded back corner set up with a billiards table for some competitive cue-ball action. (T. rexes: notorious hustlers.)

You could head here for a couple post-work rounds of beer—sidle up to the long wooden bar with some colleagues and order one of the 12 brews on draft (Bell's Oberon, Stone Ruination, etc.). Or come back late on a Friday (they're open till 3am) for a night of rock-fueled revelry. Wrangle one of the black-leather banquettes near the makeshift stage for an evening of wailing guitars and sake bombing (an art unto itself).

We also hear there will be a VJ night, where a maestro of celluloid discography will mix music videos on a wall-sized retractable screen.

No, it's not Downtown Julie Brown.