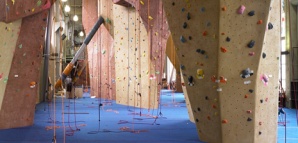 You wouldn't know it from looking at you, but it's actually been a little while since you've worked out.

We think it's because you're bored with your current gym. And frankly, we've found a better one. Or at least one with better scenery...

Welcome to Planet Granite, a new gym/climbing facility/yoga studio/chisel factory opening Saturday in Crissy Field's Glass Palace.

You're vaguely familiar with the Glass Palace, that old hangar-like military building rightfully named for its many windows offering panoramic views of just about every prized city landmark—the Golden Gate Bridge, Alcatraz, Palace of Fine Arts, TransAmerica Building.

And while views can be inspirational, they're only as good as the elliptical or lat pulldown you're enjoying them from. In this department, Planet Granite is well-stocked: Rows of treadmills, bikes, weights, personal trainers and yoga studios are all here at your fingertips.

But the real showstopper is the massive climbing area, with 45-foot walls, bi-level ramps and a boulder the size of two Yao Mings. For rope climbing, you'll take a quick belay lesson (which includes learning what "belay" means), harness in and ascend one of the hundred or so routes to the peak.

Plus, the walls are constantly receiving new crevices and stalactites, so you never know what the course will look like the next time you show up.

Because everybody likes a good cliffhanger.