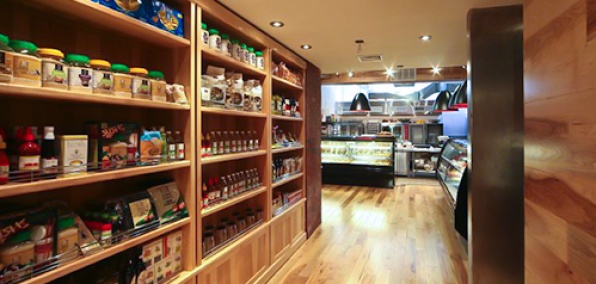 A quick look ahead at next week's schedule.

Monday: Mistress Day. The less said, the less incriminating.

Tuesday: Valentine's Day. We heard you booked Michael Bublé's third cousin, Ross Bublé. Nice.

Wednesday: Rent Out an Entire Kosher Butcher Shop for Dinner Day. Hey, if flags can get a holiday...

Presenting Prime Butcher Baker, an Upper East Side chop shop that's got your Nova, your brisket, your authentic Syrian lahambajin—and when the store closes up for the evening, your private chef's table for 12, opening Wednesday.

No, this is not a normal kosher butcher. No sawdust on the floor (it's pristine parquet), no salamis on the wall (just distressed steel and dry-aged steaks), no smell of old people in the air.

Ideal way to experience this Middle Eastern Eataly: reserve the after-hours private table for an all-you-can-eat feast. It'll be you, some friends, a chef of your choosing (they've got a rabbi-approved roster here on retainer) and free rein over a massive home-cooked menu. Our suggestion: divide and conquer.

If you're not in the mood for a meal of Thanksgiving-sized proportions, you can always just get some chateaubriand for takeout. Or delivery. Right now, they'll truck big orders to anywhere in Manhattan. By the summer: anywhere in the Hamptons.

It's hard to find a good gefilte fish guy out east.