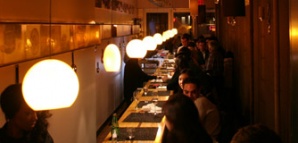 Flowers
can sometimes do the trick, as can some smooth VIP treatment at your drinking destination. But there is really no more surefire way to a woman's heart than with killer molten chocolate cake.
Chef Will Goldfarb is here to help with
Room 4 Dessert
, the literally-named sweet spot opening tomorrow night in a tucked-away location across the street from
La Esquina
. The discreet frosted glass front reveals a long, narrow space (seating only 28), with a long bar serving up creative desserts paired with a great wine and champagne list.
With training from Spain's
El Bulli
, world-famous for its outrageous experimental food labs (with creations like "flavored gases" inhaled before ingestion), Goldfarb creates unique tastings in never-before-seen dessert forms. The
Voyage to India
, with a crisp made from cocoa butter, and mango in the form of caviar, is likely to get her going; as will the
Apple In Various States
which includes an apple slice steamed and served in clear stapled cellophane (who knew eating out of stapled cellophane could taste so good); and the unforgettable
Infance
which includes handspun cotton candy served gourmet-style.
Goldfarb, like a good bartender, is friendly and easygoing as he and his team whip up the goods right in front of you. The ambiance is fun and sexy—perfect for a creative first date alternative to a regular bar, or a sure-bet post-dinner destination for your woman with the sweet tooth.
And a woman's brain supposedly responds to chocolate much like it responds to that other pleasure...audibly.