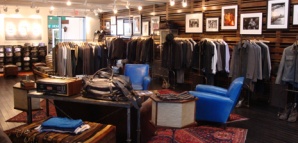 Something about the beach...makes you think vintage amps and lambskin vests.
 
Looks like you're not the only one—John Varvatos is officially open on the Malibu shore.
 
Unlike the faraway Melrose store, the large new beachside outpost feels like your living room, if your living room feels like your favorite rock club. And if your favorite rock club has skylights and fresh beachy air wafting through. Take a seat in a blue leather chair to try on some tough-looking boots, or wander deeper within to find your favorite vests and button-downs under photos of wailing legends like Steven Tyler giving you a one-finger salute.
 
You'll also find everything from V-necks and refined suits to rare vintage McIntosh amps and receivers, as well as books on Ziggy Stardust and Jim Morrison...in case you need further inspiration to complete your polished-rugged-Malibu-rocker look.

Because there's a lot of competition in the polished-rugged-Malibu-rocker crowd.