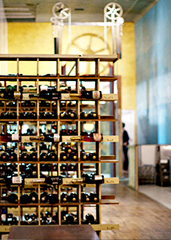 It's happened before, and will again.
You're in wine country. The tasting rooms are closing, you're just getting warmed up, and it's 4:30pm.
Herewith, a solution...
Welcome
Bergamot Alley
, an after-hours, Mediterranean-only wine hub pouring glasses and bottles from France and Spain to Morocco and Slovenia, now open in Healdsburg.
Plan on spending your morning and afternoon in the local tasting rooms. Then, once you've had your fill, duck into this lofty, rustic den housed in an 1896 building for rare old-world finds. Don't rush, you've got time—they close at 1am.
Since it's brought to you by an ex-A16 sommelier/Flour + Water wine guy, you'll be in good hands. There's actually no true bar, so take over a communal table made of reclaimed wood and military-grade hot-dog-bun baking trays and claim a stool (fashioned from desks salvaged from a 1960s Mission District school).
From there, lean on Kevin to bring you glasses of 100% counoise from Côtes du Rhône or a briny white number out of Santorini. After you've run down the 16 wines by the glass, head to the back barn door, lift it up and stroll into their temperature-controlled cellar (aka "porn room"). Here you'll find collector's-level wines the likes of the entire range of 1997 Gaja ready for the drinking.
But before you think it's all getting too serious, you might switch to a pint of Lagunitas Little Sumpin' Sumpin' Ale and flip on some old vinyl on the record player.
Don't ask for an iPod.