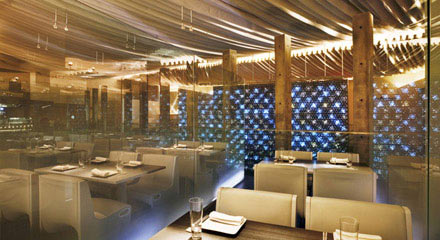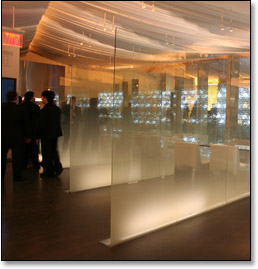 Every teacher has that one student—the one who learns, disappears, then comes back years later to take him on.
Nobuyuki Matsuhisa has just seen the return of his.
Masaharu Morimoto, who trained under Nobu as his executive chef, is back for the first time in almost a decade to open
Morimoto
.
Morimoto, who has reached the coveted title of
Iron Chef
, commands a space four times the size of his former teacher's original downtown location, with a huge exhibition kitchen, a 160-seat dining room, a lounge for 40, and an
omakase
table for a lucky eight.
He's also bringing his game face with the design of the stunningly frosted space, which is all glass and Lucite, lit with a huge wall of (yes, that's right) plastic water bottles—a little touch of hip eccentricity that is signature Morimoto (like his diamond stud earring and habit of humming the
Rocky
theme before Iron Chef showdowns).
The menu is one to be reckoned with: an addictive
black cod miso
and decadent
crispy rock shrimp tempura
are familiar (learned from Nobu) but nonetheless satisfying. Newer creations such as the like-butter
sizzling Kobe beef
(order it rare) and a
12-spice-rubbed Angry Chicken
are flat-out sensational.
One point where student will most surely surpass teacher? Morimoto's downstairs lounge—with its sleek bar and trendy vibe—will attract a scene that's sure to outdo neighbors Gansevoort and Maritime, not to mention the far-flung Nobu locales.
Cue the
Rocky
theme—Morimoto has just entered the New York ring.