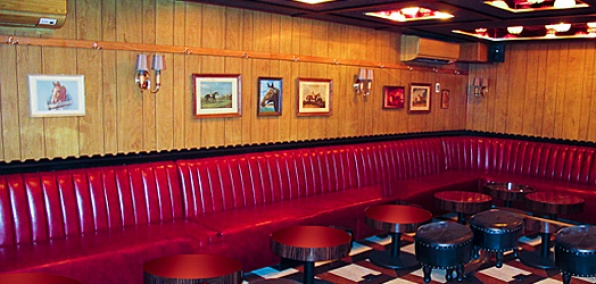 Let us throw a phrase at you: 

Super Linda.

Right now you're probably picturing either a soccer mom who's great at carpooling or a rad babysitter with acid-washed jeans from 1987.

But you should be picturing a Uruguayan barbecue hot spot in Tribeca.

Say hi to, yes, Super Linda, a Latin establishment from the honchos behind La Esquina/Café Select and Warren 77 that's big on grilling... and Mexican jockeys (we'll explain), slated to open Monday.

If you're familiar with the work (or at least the tacos/cocktails/secret fondue chambers) of Matt Abramcyk or Serge Becker, then you already know what to expect here. Dim lights, short skirts, eclectic decor (think wood paneling mixed with pink neon lights and a retro food counter) and a menu that receives the coveted Friday night seal of approval.

Naturally, you'll be coming here for those overlong weekend dinners. The ones that always start late, typically include a group and usually involve a significant over-ordering of food. Gulf snapper ceviche. Jewish pastrami tacos. A healthy combination of grill/sauce permutations from the parilla.

But if you're planning on making the evening strictly about things like pepper-and-mango margaritas, it's probably best to bypass the striped-ceiling dining room and head straight for the downstairs lounge. It was modeled after an old Mexico City jockey joint. Hence, the low-slung red banquettes, tiny leather ottomans and majestic horse murals.

As if there's really any other kind.