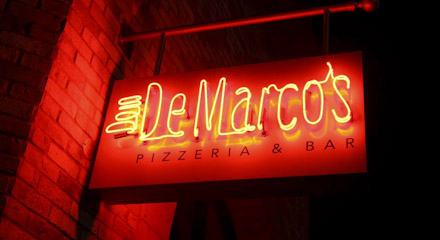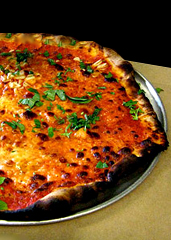 On the surface, this city has it all: bright lights. Twenty-four-hour intrigue. Erotic keno on Tuesdays.
In essence, everything you need to achieve personal fulfillment.
Except for a decent slice.
Welcome to
Dom DeMarco's Pizzeria
, a new feel-good pizzeria from the son of legendary Brooklyn dough-tosser Dom DeMarco (of Di Fara), now soft-open for off-Strip pizza missions.
There's a simple way to think about this place: if De Niro's and Pesci's characters in
Casino
could airlift one pizza shop into the desert, they'd pick Di Fara of Avenue J.
The Brooklyn original: it's the type of 64-year-old pizzeria you'd find in a Spike Lee movie. Dented, fire-singed metal oven behind a counter, walls adorned with old newspaper clippings and framed 8-by-10s of Mike Piazza. And lines snaking around the block.
You'll find the Vegas version slightly more accessible. Gone are the lines, the every-man-for-himself service and the boom-box-based entertainment. In their place: a Wood Stone oven, hand-crushed marinara sauce and 12 craft beers on tap. Also, wallpaper.
You might also notice a waitstaff. So after you climb into a turquoise leather booth, you'll make a choice between a char-crusted Neapolitan pie called
The Regular
(chopped garlic, whipped ricotta, mozzarella and grana padano cheese) and option two: a Sicilian-style pie baked in a cast-iron pan that's doughy, square-ish and heavy on the sausage.
Kind of like a Meat Loaf concert.