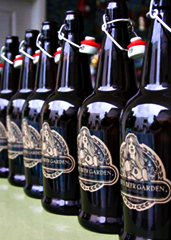 So... the Super Bowl.
Now that the lineup's been settled, you need to focus on two key things:
1) Where to procure a waterproof inflatable screen, obviously.
2) Beer.
Which brings us to
Growlers at Lou's Beer Garden
, the city's first foray into draft beers to go, available now.
First things first: growlers. You know them, you love them—they're those refillable glass jugs you use to take home the sudsy brew of your choice.
So say you're doing a little pre–Super Bowl practice run to decide which beer works best for the big game. You'll stop in and order up a handsome 32-ouncer of anything from their dozen taps—say, a Cigar City Ligero Black Lager (from Tampa) or an Old Rasputin Russian Imperial Stout from Northern California (made using the same 18th-century methods that kept the Russian royal court well sauced).
Or head there tonight, when you'll find that the poolside bar is hosting the
kickoff to South Florida Beer Week
. Meaning all 12 taps will be dispensing quaffs from local breweries like the Native Brewing Company, Tequesta and Holy Mackerel. And there'll also be tastings from a complimentary pig roast.
If that sort of thing appeals to you...