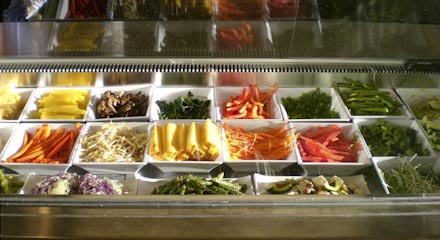 It's not going to happen today, or even next week.
But one day, robots will take over the world.
For now, you'd be happy if one would get you a beer, or just make you sushi...
Behold:
U-Sushi
, a semiautomated (more on those robots later) sushi bar that lets you design your own maki that's ready to go in a minute, opening next week on Market.
Brought to you by the guys behind Ozumo, this sleek, highly efficient takeout joint won't be that full-service kind of spot you'll choose for closing deals with Norwegian shipbuilders or for anything close to a three-martini lunch. You'll go here for a quick bite—nothing more, nothing less.
If you're reminded of a high-tech version of a Mission taqueria, that's about right. You'll walk down the open kitchen's assembly line like you do when directing the making of your burrito—only your
sushi-related choices
will be of the brown-versus-white-rice and soy-wrapper-versus-seaweed sort (though there really shouldn't be a question).
Lastly, you'll pick your fish options—like a traditional hamachi with tempura shrimp—and maybe add avocado or jalapeño. Just remember, there is no wrong answer.
Oh, we should point out the robot automation. It's primarily used to pack the sushi rice and slice each roll into eight perfect medallions to get you in and out quickly.
We think you're safe for now.